Description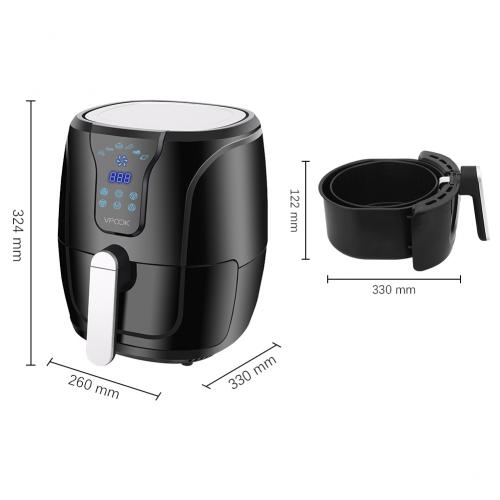 VPCOK Air Fryer
A Multifunctional Kitchen Helper
Please read the User Manual carefully before any using of the appliance as dangers may occur under incorrect operations.
Tips:

Smaller ingredients usually require a slightly shorter preparation time than larger ingredients.

Shaking smaller ingredients halfway during the preparation time optimizes the end result and can help prevent unevenly fried ingredients.

Adding some oil to fresh potatoes for a crispy result. Fry your ingredients in the fryer within a few minutes after you adding the oil.

Do not prepare extremely greasy ingredients such as sausages in the fryer.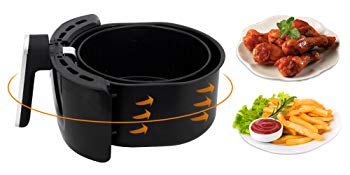 Environment Protection
Do not throw away the appliance with the normal household waste when it is exhausted, but hand it in at official collection point for recycling. By doing this, you do contribution to environmental protection.
Make sure all parts are clean and dry for storage.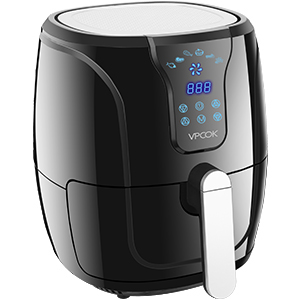 VPCOK Air Fryer
Vpcok air fryer provides an easy and healthy way of preparing your favorite ingredients. By using hot rapid air circulation and a top grill, it is able to make numerous dishes. The best part is that the Vpcok air fryer heats food at all directions and most of the ingredients do not need any oil.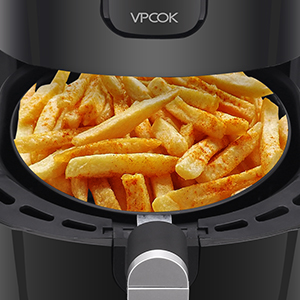 Large Capacity
This appliance is designed for household use only. It may not suitable to be safely used in environments such as staff kitchens, farms, motels, and other non-residential environments. A larger amount of ingredients only requires a slightly longer preparation time, and vice versa.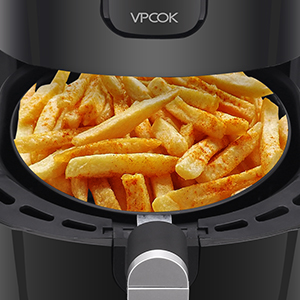 Non-stick Coating Pan
With separable fried basket and hollow design on the bottom, this non-stick coating pan is safe and non-toxic to help you effectively remove superfluous fats of food.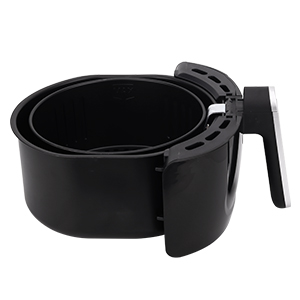 Separated Basket Design
Before use, clean the basket and oil catch plate with hot water, with some washing liquid and a non-abrasive sponge. These parts are safe to be cleaned in dishwasher.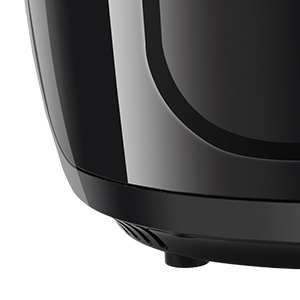 Heat-resistant Plastic Casing
With heat-resistant material and automatically power off when basket removed, this air fryer is safe and reliable for use. Because the Rapid Air technology reheats the air inside the appliance instantly, pulling the basket briefly out of the appliance during hot air frying barely disturbs the process.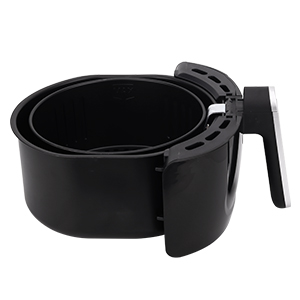 Streamline Handle
Some ingredients require to shake halfway during the preparation time. By this way, pull the basket out of the appliance by the handle and shake it. Then slide the basket back into the magic fryer.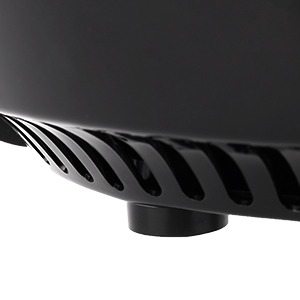 Anti-slip Mats
Ensure the appliance in placed on a horizontal, even and stable surface. Do not place the appliance on non-heat-resistant surface.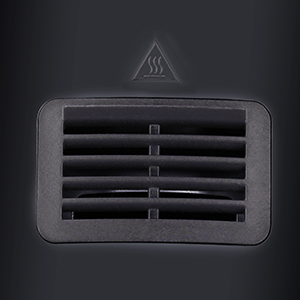 Scientific Ventilation
The appliance needs approximately 30 minutes to cool down for handling or cleaning safely. Please remove the plug from the wall socket and make the appliance cool down.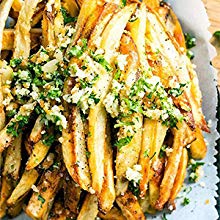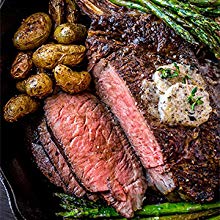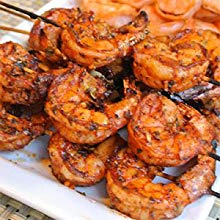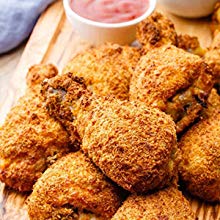 Vpcok Direct Multifunction Hot Air, with Timer and Adjustable Temperature, LED Touch Screen, Electric Fryer, Black [Energy class A ++]