Description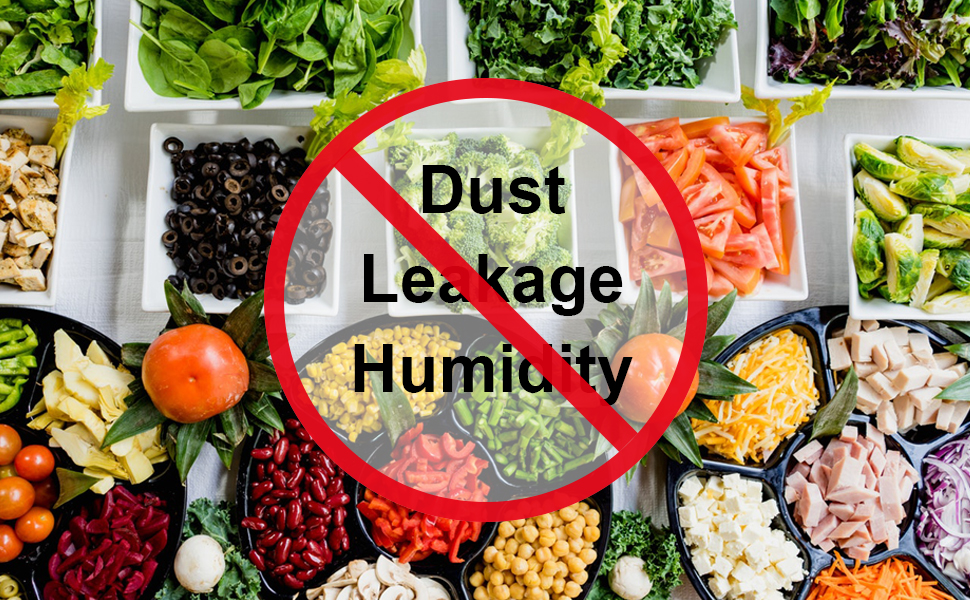 VPCOK Vacuum Sealer
Packaging the food with special vacuum bags and cooking with Sous Vide Cooker.
You can enjoy a more delicious food and a healthier lifestyle!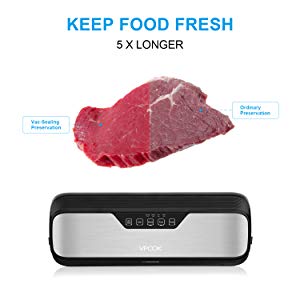 Why Choose VPCOK Vacuum Sealer Machine?
Two functional mode selection: "Dry & Moist", depending on your food type to choose mode, effectively prevent food from spoiling and keep the original taste of the food.

Sealed / vacuum sealed according to your needs with easy operation.

This food vacuum sealer can be used with a Sous Vide Cooker to create an economical and healthy lifestyle.

Tight Sealing that no need to worry about leaking. Avoid the loss of food moisture and achieve the effect of preservation.

Practical for vacuum containers, wine bottles, fabrics, jewelry, photos, watches, books, letters, token bags or snacks.
Tips:
Air dry the sealing sponge after cleaning. Do not place it under any pressure as this may change the shape of the sponge and prevent it from further use.
Notices:
Do not put the vacuum sealer machine in water or rinse it under the faucet.
Make sure the inside and outside of the food vacuum sealer are completely dry before use.
If the vacuum sealer machine malfunctions, unplug it immediately and troubleshoot the cause.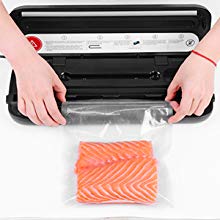 Step 1
Open the cover of the food vacuum sealer by pressing the buttons on both sides of the machine. Place the unsealed end of the bag in the vacuum chamber.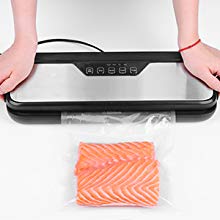 Step 2
Being careful not to exceed the seal chamber, and close the lid. Press the cover with two hands at the same time, when you hear "click", the lock latch has been securely closed.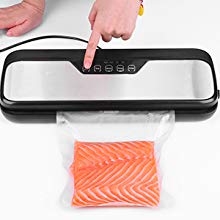 Step 3
Select the action button to select the required action. (When performing Pulse Pump, press the "Seal Button" to seal the bag when it reaches the required vacuum level.)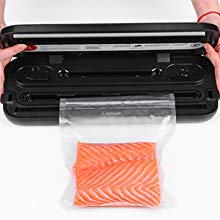 Step 4
After the operation is completed, press the "Release" button on both sides of the vacuum sealer machine. Open the lid and remove the sealed item.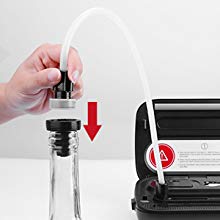 Technical Parameters
Rated Voltage: 100V-240V/50Hz-60Hz
Rated Power:110W
Vacuum Degree: -45Kpa ~ -60Kpa(Max)
Sealing Length: 320mm(Max)
Appliance Size: 387x140x70mm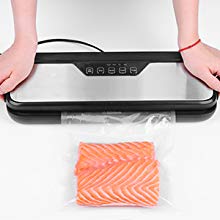 Vacuum Pumping Function
Connection hose can initiate the pump action by easy operation.
Not only suitable for wine bottle, but also for different types of vacuum storage tanks, storage bags for clothes, etc. It is convenient for the storage in daily life.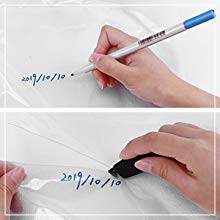 Exclusive Accessories
The equipped opening knife can help to quickly cut the vacuum bag and protect the hand from being scratched.
The marker pen is used to mark the sealed date, both of which can be stored in the vacuum sealer machine and are not easily lost.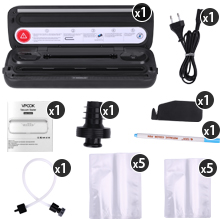 Package Contains
1 x Food Vacuum Sealer
1 x Power Cord
1 x Wine Stopper
1 x Accessory Hose
1 x Marker Pen
1 x Opening Knife
1 x User Manual
5 x Vacuum Bags (15x20cm)
5 x Vacuum Bags (20x25cm)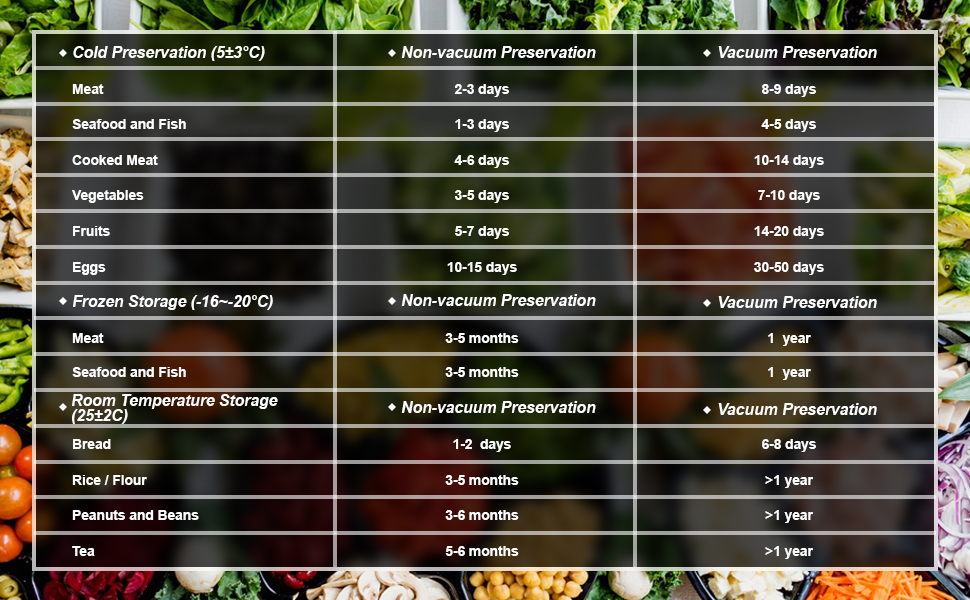 Vacuum Sealer Machine, VPCOK Vac Pack Machine Automatic/Manual Food Vacuum Sealer, Dry/Moist One-Touch Vacuum Packing Machine with Accessory Hose, Wine Stopper, Opening Cutter, Marker Pen, Black