Description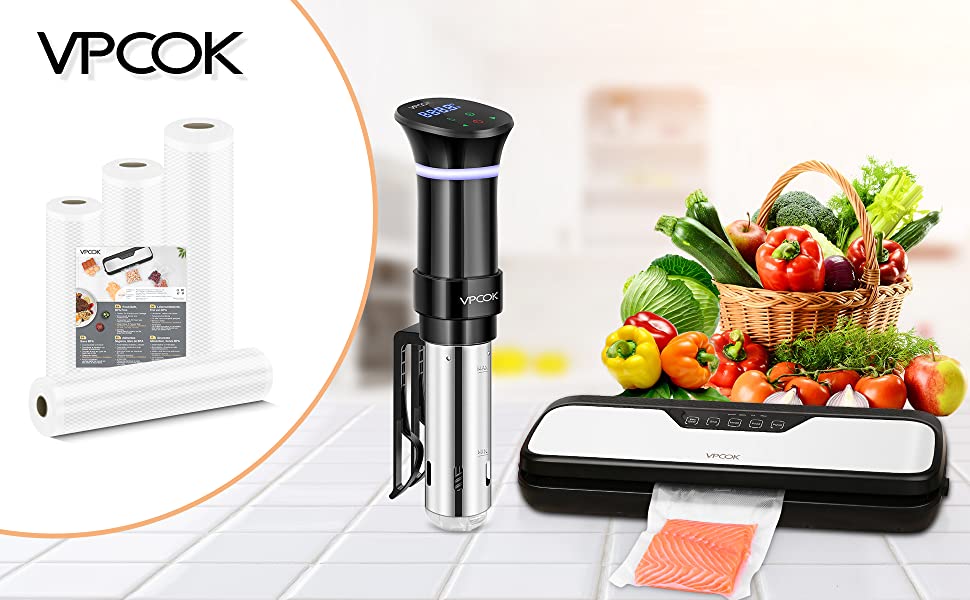 Lock Freshness, Original Flavor and Nutrients in, Keep Air out
VPCOK is a trusted and innovative brand that is passionate about creating humanized products and offering thoughtful service. We keep focusing on the most valuable product and the first rate service. We offer help and advice in 24 hours.
VPCOK Universal Vacuum Sealer Bag Rolls allow you to preserve and eat fresh food longer, and reduce waste easily. It protects food from outside elements such as air, moisture, and mold. Air is sucked out of VPCOK BPA-free storage bags, which helps slow down food spoilage, soggy, wilting and unsavory odors, while maintaining all of their flavor and nutrition.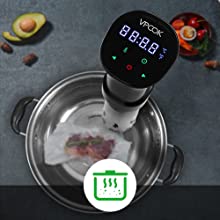 Boil Safe
VPCOK Vacuum Seal Rolls are ideal for sous vide and boil reheating. VPCOK Air and Watertight Food Package Bags keep food secure, resist punctures and tearing, and avoid loss of nutrients, protein and trace elements. Water can't permeate through the bag. Perfectly airtight packaging delivers sous vide cooking top-notch, juicy, tender and yummy flavor.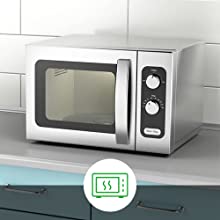 Microwave Safe
VPCOK Vacuum Seal Rolls are made to used in microwave reheating and steaming when the bag is punctured. It bears high temperature up to 110 ℃ and won't release any harmful chemicals when heated. Please puncture the bag before microwave heating.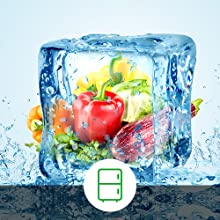 Freezer Safe
VPCOK Vacuum Sealer Rolls withdraw oxygen from the bag, keep food's moisture and flavor in and prevent oxygen from seeping back in, avoiding freezer burn. It withstands temperatures as low as -45 ℃. No freezer burn, dehydration, and unsavory odors, portion bulk items in the freezer at ease.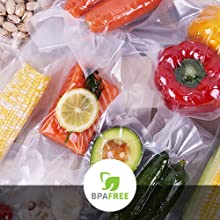 Food Safe
We pledge to make food-safe bags that are free of BPA, phthalates and other plasticizers. Constructed of food grade nylon and polyethylene materials, VPCOK Food Seal Bags help people not only block moisture and oxygen to store food and keep food fresh, but also lock food nutrients to help people always eat nutrition foods.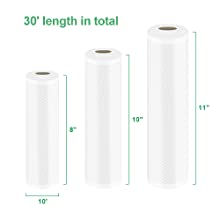 3 Popular Size, Great Value
11 inch x 10 feet (28 cm x 300 cm)
10 inch x 10 feet (25 cm x 300 cm)
8 inch x 10 feet (20 cm x 300 cm)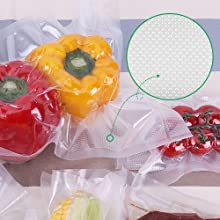 1 Embossed Side, Maximum Air Removal
3.5 mil thick smooth side for optimum clarity, secure to seal and create airtight barrier that locks in flavor and nutrition.
4 mil embossed side, on which high density dotted air removal channels increase suction to vacuum, withdraw oxygen .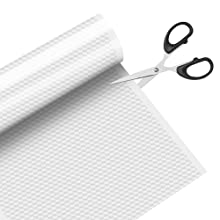 Easy and economical to seal items of different sizes
VPCOK Vacuum Rolls provide you the flexibility to costume your own bag as you need. Cut the desired length of the bag and then seal it. It brings you the convenience to pack different food and items, reduce waste and save money.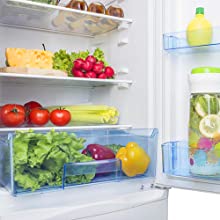 No More Mess and Money Saving
VPCOK Sous Vide Bags allow you to store more leftovers and other food in the refrigerator as well as place them in order. Your refrigerator looks well-organized and tidy while your food keep the flavors, which is convenient for serving on the second day. You can buy food in bulk to save money and properly store it to save place.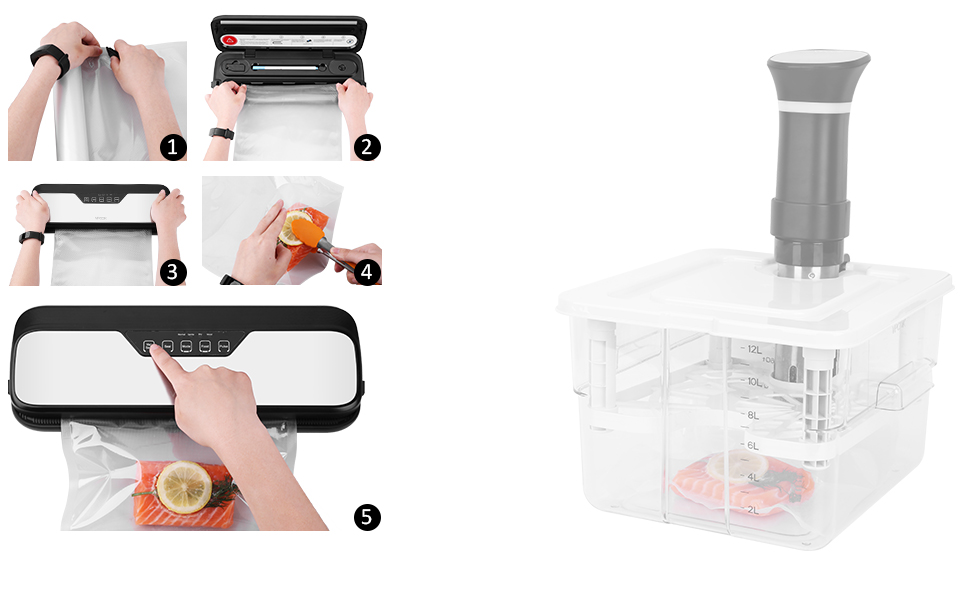 Just a Few Steps
1.Cut the bags into the size you need.
2.Seal one end of the bag.
3.Insert your food.
4.Vacuum & Seal.
5.Sous Vide.
Prepare Food At Ease!
Before party or big events like thanksgiving day and Xmas, you can marinate ingredients together to create savory meals. Easily handle cooking for many people or your family! With VPCOK food storage vacuum bags, speed up the marinade process.
Universal
VPCOK Vacuum Sealer Bags are compatible with all major brand clam-type vacuum sealers and sous vide machines.
VPCOK provides a perfect chain from vacuum seal to sous vide. Optimal combination: VPCOK Vacuum Seal Rolls, VPCOK Vacuum Sealer and VPCOK Sous Vide.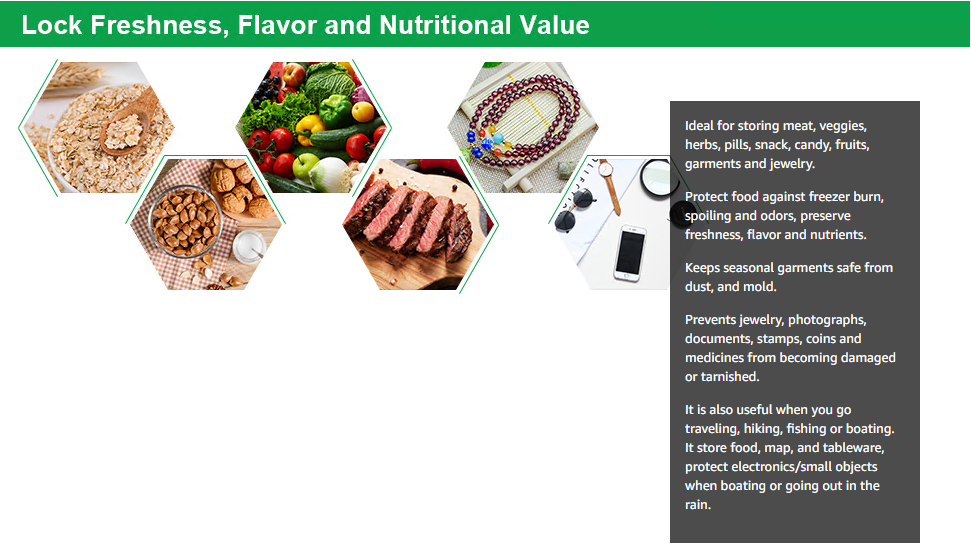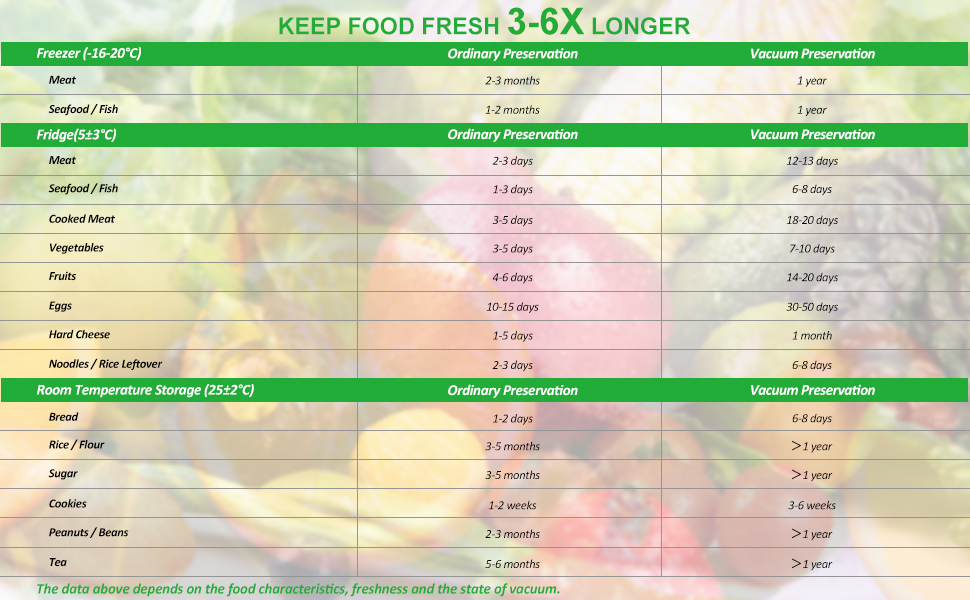 Enjoy Healthy Food And Healthy Lifestyle!
Frozen food can last 3-6 times longer after being vacuum sealed compared to traditional freezer bags.
Vpcok Direct Vacuum Sealer Bags 3 Rolls 8" x 10', 10" x 10', 11" x 10' Vacuum Seal Roll 3 Pack BPA Free Fit VPCOK Vacuum Sealer & Sous Vide for Food Saver Food Storage Bag Roll Vac Storage Meal Prep